"Get started, go anywhere with a BMW Group UK apprenticeship"
The BMW Group is the world's leading manufacturer of premium automobiles and motorcycles, and a provider of premium financial and mobility services.
Our success is based on long-term thinking and responsible action, as well as ecological and social sustainability at local, national and international levels: As a global company, we operate 31 production and assembly facilities in 15 countries, and we have a global sales network in more than 140 countries.
Striving for a greener, cleaner future lies at the heart of everything we do. And as the next generation of talent, you'll help to implement our sustainability goals, ensuring the legacy of both our industry and planet. By 2030, at least half of our global sales will be fully electric vehicles, we'll have cut down our production C02 emissions by 80%, and we'll have reduced our supply chain emissions by 20%.
If you're passionate about engineering, technology, business, or craft, a BMW Group Apprenticeship Programme could be the first step in a sustainable, future-proof career. 
Your future starts now.
We've got a proud history of creating exceptional products worldwide, and with our breakthroughs in green technology and production processes, we know we have an exciting future ahead. Now we're on the search for promising new joiners to ensure the highest standards for our brands and businesses in the UK – BMW, MINI, Rolls-Royce Motor Cars and Alphabet.
We go further together.
The BMW Group is committed to ensuring that everyone can get ahead in this exciting and rewarding industry. And as we build a more sustainable business, we want to build an even more diverse team. In an apprenticeship with us, you'll find your talents nurtured and your background respected. We employ around 8,000 people directly in the UK, with an additional 16,000 through our Retailer network. And with over 250 current apprentices, you'll be in supportive, diverse company as you kickstart your new career.
Visit website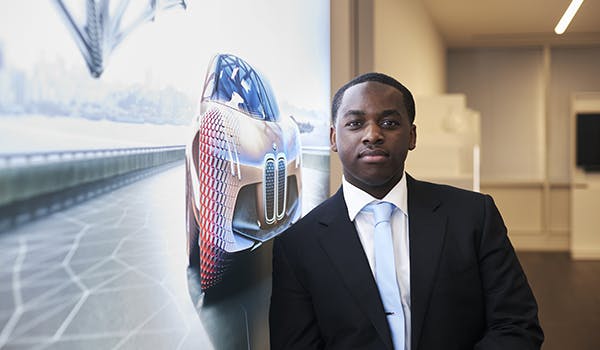 Apprenticeship opportunities
Why join us?
· You'll have access to in-depth, on-the-job training and lots of support.
· You'll form part of a wide, highly diverse community of apprentices, and benefit from regular opportunities to support community and charity activities of your choice.
· Plus, we offer discounts for a wide range of retail outlets and you'll have a pension plan which includes a company contribution.
· And, if you're over 18, you'll also have the opportunity to purchase or lease a BMW or MINI at a reduced rate as part of your benefits package.
It's been a perfect fit for me. No one really knows where they may end up in their careers, but I've been able to explore different areas within the wider BMW Group, providing me with an ample opportunity to form my own opinion about my future, and discover where specifically I wanted to work.
Duncan Balloch, Product Executive, Former Business apprentice, MINI UK
Dilly Stinson (Treasury Assistant Apprentice)
Challenge yourself to succeed.
Get started. Go anywhere.
I think BMW is different from other companies because they look at the premium aspect of mobility and make sure that the cars they make are extremely high quality and that customers have an amazing experience. There's a big movement in BMW Group to strive for sustainability across all aspects of the supply chain and after the cars have been sold, which sits well with my own thoughts about sustainability and the future.
As a Treasury Assistant Apprentice, I'm part of the Treasury team, which monitors the cash flow in and out of BMW's bank accounts. We also monitor the interest rates and our investments, and I personally report to various teams around the business to come help them adjust and review strategy. I love learning and I like the challenge of trying to wrap my head around new concepts at work and while I study – BMW has been great at helping me learn.   
My manager and colleagues support me all the time, especially when they know that I'm encountering a concept for the first time. Everyone's always happy to explain things, which is helpful. For example, I was having trouble understanding some of the concepts in one of the modules I was learning about, and my manager took the time to talk me through it and help me figure out how to understand what was going on – and a related question did come up in an exam, so that was very useful.
BMW Group also offer an apprentice development day, where you meet every apprentice in the country and you do team building exercises and get to know each other. It gives a sense of camaraderie with other apprentices, which is interesting and useful.
BMW Group have six diversity groups in Farnborough, spanning everything from racial diversity to LGBTQ to working parents. I'm involved in a new one that's being set up based on gender diversity. I'm excited to work on the issues that people of different genders face in the workplace. BMW Group is very keen to make the workplace as equal for everybody as possible.
Coming straight from school has been a big shift. It can be quite daunting to have more responsibility for yourself and the quality of your work. But it's also fun to meet new people and do something that you enjoy and find interesting.