Southeastern is one of the busiest commuter rail companies in the UK running more than 2,000 trains, and carrying nearly 600,000 passengers every day between London, Kent and East Sussex. Our network includes the UK's first domestic high speed service with Javelin trains.
Just over 4,600 employees - mostly from the communities that they serve - work together to provide this vital service. They have a strong set of values that shape the way they run their business and guide their staff in delivering what our customers need. These are:
We aim to be the best
We make the difference together
We care passionately about our people and our passengers

They are committed to being an inclusive employer, creating a workplace where everyone can come to work, feel safe and comfortable and able to do everything to the best of their ability. Read about some of the great Diversity and Inclusion initiatives their Head of Colleague Experience has been leading on here. 
They are also proud to be a WORK180 Endorsed Employer for Women. If you would like to know more information about how they are supporting our employees, you can view their policies and initiatives here.
Southeastern by numbers
640,000 passenger journeys on 2016 train services every weekday
1755 train services on Saturdays and 967 on Sundays
392 trains
164 stations managed, 180 stations served (plus two additional stations served in the morning peak - Bellingham and Crofton Park)
Over 4,000 employees
140mph top speed on the UK's first domestic high speed service
Our trains
Mainline trains throughout Kent are Bombardier Class 375 Electrostars. They travel at up to 100mph
Metro trains on the inter-city London routes are Class 465 and 466 Networkers and Class 376 Electrostars. They travel at up to 75mph
High speed trains from Kent to St Pancras International are Hitachi-Class 395 trains
Our City Beam trains were introduced in September 2021 onto the Grove Park, Hayes and Dartford lines
Visit website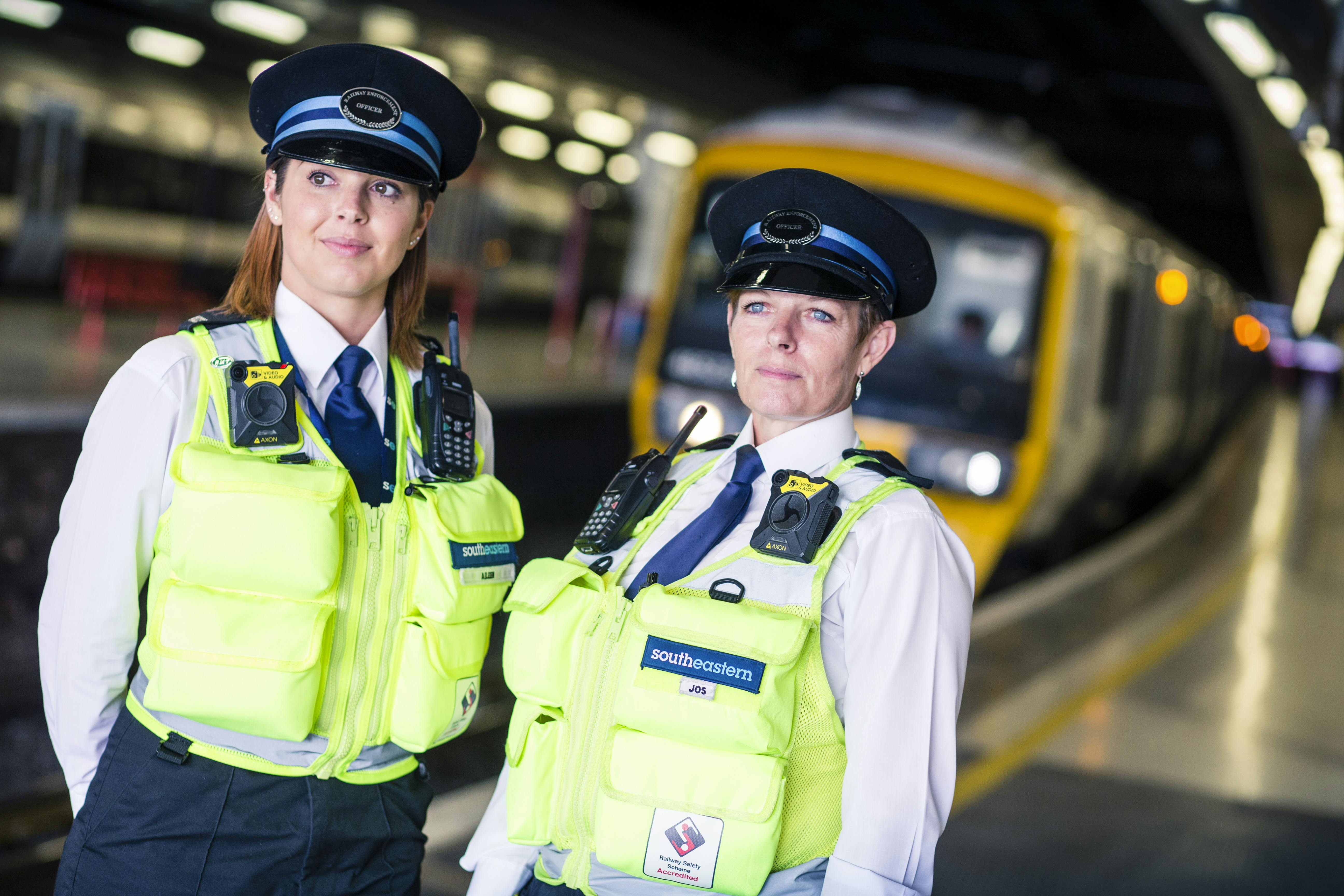 20% of our colleagues are female
Introduced the UK's first domestic high speed service
A single train can remove up to 500 cars from our roads
Apprenticeship opportunities
Why join us?
Southeastern recognises the value of every individual employee and offers benefits that reflect this.
As well as a generous salary, we offer an comprehensive benefits package which includes;
A Contributory Final Salary Pension Scheme 
Free rail travel on Southeastern and GTR rail services (extends to family members for leisure/educational travel)
After a qualifying period, reduced rate travel on other train operators, including European services
Generous annual leave entitlement
Private healthcare
Access to an array of discounts for retail and leisure products through our benefits scheme.
Family friendly benefits including enhanced maternity/paternity leave, parental leave and carers leave.
Investors in People
Investors in People (IiP) is a nationally recognised framework for people management, covering Leading, Supporting and Improving. Southeastern began its IiP journey in 2009 and is assessed against the IiP framework every three years. We were proud to achieve Gold accreditation in 2012 and most recently in 2021.
The more we strive to make work better for everyone, the better the service you can give to our passengers. We're investing more money than ever before in training and development programmes for our people, and we're committed to sharing and promoting best practice in people management.
Mindful and Inclusive Employers
Southeastern are proud to have signed up to the Mindful Employer Charter. By signing the charter, we are showing our commitment to supporting mental health within the workplace and the wider community - and want to provide a better mental health support to our employees.
Inclusivity is extremely important to Southeastern and we are members of Inclusive Employers. This will ensure our processes enable us to build and develop inclusive workplaces.
We also developed and launched the Railway Mental Health Charter. The Railway Mental Health Charter (RMHC) is a framework to help rail companies promote, manage and support workforce mental wellbeing. Aligned with good practice and developed to respond to industry needs, the charter provides targeted actions and resources for improving mental health.