Fascinated by space?
Aerospace Work Experience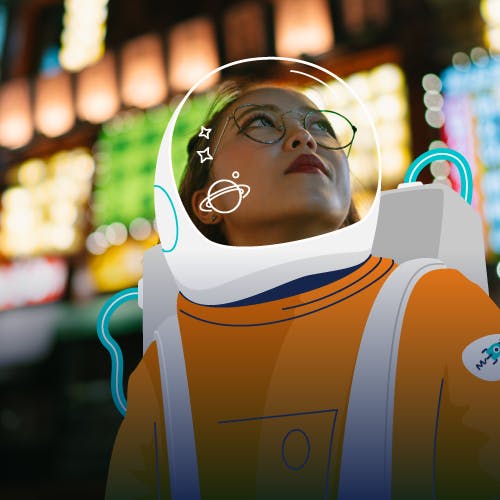 Experience overview
Always been fascinated in Space? Simply don't understand how a 300-tonne plane can make it into the sky? Maybe it's time to take the Airbus Aerospace programme!
We'll go into detail about Space exploration and how new iniatives help us here on earth.
What's included?
We'll hear from the people who make Airbus the company that it is and give you opportunities to complete activities in various departments to get a feel of what space is most interesting for you.

We'll even let you in on some industry secrets like did you know it takes more than 3600 liters of paint to paint the exterior of the aircraft!
Students aged 14-19 are welcome to apply
Certificate of completion
Approximately 10 hours to complete
Attend live webinars
Complete at a pace that suits you
Helping You Take Off
Airbus is an international aerospace corporation and the world's largest airline manufacturer. Making something fly either in space or around the world is not a one-person job so in this module we'll introduce you to the company, its core values and its global reach. In this module's quiz, you'll be tested on everything you've remembered so far! 
Available dates
To ensure that you get the very best experience, the number of places on each programme is limited. Apply soon to avoid missing your place. Good luck!
Programme dates:
4th April - 14th April
Application deadline:
30th March
Meet industry professionals
We've worked with some awesome employers on our Aerospace Virtual Work Experience. Check out some of our speakers.
WH
Wyatt Hill
Plant Industrialisation & Programme Management Graduate at Airbus
JC
John Chinner
Electronics Faculty Leader in Defence & Space, from Airbus
Keith Bushell
UK Stakeholder Manager/ Environmental Affairs at Airbus
What students say
"Thank you for taking the time to create this programme. The volunteers on the live sessions were all really nice and down to earth which was really good to hear proper experiences in this industry, without sugar coating or hiding anything. To the people who made this project brief and stuff for us: I really enjoyed it and I thought it was the perfect topic and it's nice to bring more awareness and knowledge of this subject to more people! Also all the videos were really nice on this programme. Very full of life and engaging!"
Rhea
"Thank you for providing opportunity for young people like me who had no previous exposure to the industry/ This programme has some great elements that differentiates itself with other work experience providers. The programmeg particularly focuses on ourselves: our confidence, our skills and what we want to do in the future rather than just the work opportunities available and how to get there. I've really enjoyed this programme and hope there would be more opportunities into this specific field"
Ci
"Thank you very much for this experience. This sector sounds fascinating and I will definitely explore more. During and after lockdown, my opportunities for work experience were completely erased. But thank to this wonderful virtual work experience, I am able to gather crucial experience to write down on my CV and personal statement. Thank you once again!"
Evan