Be the difference in supporting health and care
Helping Others: Support Services in Healthcare with GWH and Wiltshire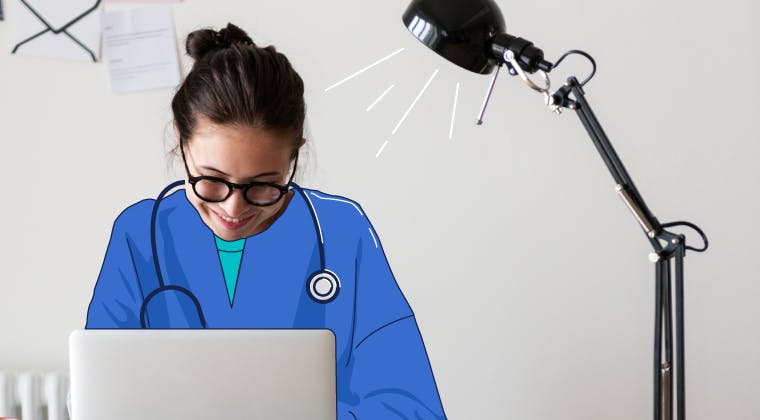 Experience overview
There are a lot of different roles that play an important part in keeping us healthy, but what do careers in healthcare really look like? Although you might think of healthcare as just being about doctors, nurses, and midwives, there are lots of essential support roles out there that make a huge difference each day. Fortunately, at Springpod we're here to help! We've teamed up with Great Western Hospitals NHS Foundation Trust and the Swindon and Wiltshire Careers Hub to bring you closer than ever before to the world of healthcare, showing you what's out there in the diverse world of the wider healthcare team! 
What's included?
This programme will cover everything from an introduction to the different areas of support services, to tips on how you can best prepare for the world of work. You'll have the chance to take part in some great quizzes and amazing activities, and you'll even have the chance to speak to industry experts along the way! 
Students aged 13-19 are welcome to apply
Certificate of completion
Approximately 10 hours to complete
Complete at a pace that suits you
The World of Work
Have you ever wondered what working for the NHS is really like? It's an amazing organisation that helps people and saves lives every day, but it can be hard to imagine what that's like! This module will help - by introducing you to some important aspects of work, to taking a closer look at what it's like to work in the NHS, this will give you a great start that can help you in the future! 
Available Dates
There aren't currently any dates available for this programme. Check out some of our other available programmes.
Explore more programmes
What students say
"Taking a part in this programme was a dream come true for me. I appreciate everyone's time to create this course and run it as smoothly as possible. The information which I received and learned was incredibly useful.e. Again, I really appreciate everyone's time and I am looking forward to taking part in other courses powered by Springpod, because it was worth my time and it was my pleasure. Thank you!"
Adam
"Thank you so much for putting your effort and time into this programme. You are helping to shape the future of this generation... the generation which are going to carry the future of the workforce on their shoulders'. Being able to talk about your personal careers in this industry and different ways to follow in your footsteps has inspired me so much. I am a dedicated, disciplined student but I have always felt very unsure about how to actually get a job (aside from the qualifications and education necessary). I already believed in myself, but you've all helped to make sure that I KNOW I can do it. Thank you so much :))"
Lucienne
"I wanted to say that I really appreciate all the time and work that you have put into organising this programme as well as choosing the activities, taking the time for the webinars and informing us students of early careers as well as what you do as a company in many different sectors. This has been so helpful and I couldn't be more glad that I was able to participate. It has been truly fun! Thank you very much to all those who were part of making this programme."
Ornella
What happens if I can't make a live talk/webinar?
Will I be able to ask questions/do I have to have my microphone on?
Ready to find out if this is right for you?