Institution of Mechanical Engineers
Mechanical Engineering Virtual Work Experience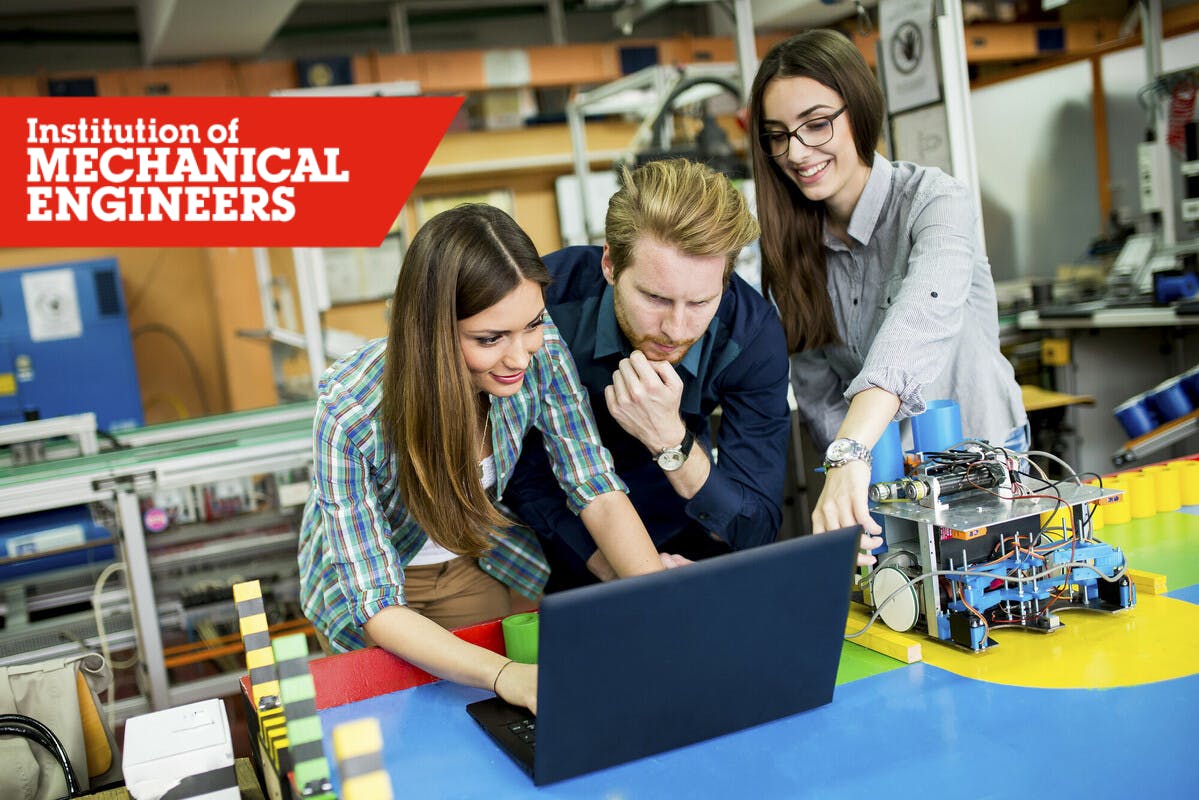 Experience overview
What do careers in mechanical engineering really look like? You'll be quite surprised! There are countless roles with unlimited potential, that can really make a difference to all of our lives. Sound good? Springpod and the Institution of Mechanical Engineering have partnered up to provide you with a fantastic programme that'll show you what's out there within the vast and varied world of mechanical engineering, and will help you explore which one is right for you.
What's included?
This programme will cover everything from an introduction into the different disciplines of mechanical engineering, all the way to how mechanical engineers are working to save lives and our planet! You'll have the chance to take part in some great quizzes and amazing activities, and you'll even have the chance to speak to leading industry experts along the way!

The highest-performing students will win tickets to attend the largest Engineering student competition at Silverstone this summer, Formula Student.
This programme is open to students in Year 10-13.
Certificate of completion
Approximately 10 hours to complete
Complete at a pace that suits you
Introduction to Mechanical Engineering
Have you ever wondered what the world of mechanical engineering is like? It's a role that can take you anywhere, doing different types of things that you might have not even imagined before! From introducing you to the disciplines of mechanical engineering to looking at career opportunities and what kind of core skills and values are needed to be an engineer, this module will help you build a future in the industry!
Sustainability and Climate Change
Engineering Health & Wellbeing
Pathways in Mechanical Engineering
Available dates
To ensure that you get the very best experience, the number of places on each programme is limited. Apply soon to avoid missing your place. Good luck!
Programme dates:
3rd April - 14th April
Application deadline:
14th April
Meet industry professionals
Abimbola Oladokun
Abimbola obtained his Bachelor's degree in Aerospace and Aeronautical Engineering at the University of Leeds in 2013. He developed an interest for functional Engineering Materials in Biological systems and so embarked on an EU-funded PhD program also at Leeds. The project aim was to develop a Silicon Nitride-based coating to extend the lifespan of orthopaedic implants in-vivo. His research was particularly focused on Tribology and Corrosion of Orthopaedic Medical Implants (hip implants to be specific). Upon completion of his PhD, Abimbola continued the project as a Research Fellow till the project concluded in 2018.
Allan Barton
Allan's career has led him towards being passionate about this wonderful planet we live upon. His particular focus is on the resources we use to sustain our way of life, and treasuring them for future generations. For the past 15 years he has worked for Arup, a global engineering consultancy, as their Global Business Leader for Resources and Waste. This has allowed him to travel the world, helping people understand how they can better handle the planet's resources. He is also passionate about promoting personal development, leadership, encouraging society to be more thoughtful about the way we live on our planet.
Fiona Westcough
Fiona (Fi) Westcough is an award-winning engineering consultant at SNC-Lavalin Atkins and National Chair of the Young Rail Professionals (YRP). In 2021, she won the Future Leader Award at the Railway Industry Association (RIA) Supplier Excellence Awards, recognising her commitment and contribution to the industry. Fi joined the rail industry in 2019 having studied Mechanical Engineering at the University of Sheffield. She gained experience as a Rolling Stock Systems Engineer on secondments with Alstom and Transport for London. She is now is now building on her project management and account management skills through involvement on a wide ranging portfolio of client projects.
What students say
"Thank you for taking the time to create this programme. The volunteers on the live sessions were all really nice and down to earth which was really good to hear proper experiences in this industry, without sugar coating or hiding anything. To the people who made this project brief and stuff for us: I really enjoyed it and I thought it was the perfect topic and it's nice to bring more awareness and knowledge of this subject to more people! Also all the videos were really nice on this programme. Very full of life and engaging!"
Rhea
"Thank you for providing an opportunity for young people like me who had no previous exposure to the industry/ This programme has some great elements that differentiates itself from other work experience providers. The programme particularly focuses on ourselves: our confidence, our skills and what we want to do in the future rather than just the work opportunities available and how to get there. I've really enjoyed this programme and hope there would be more opportunities in this specific field"
Ci
"Thank you very much for this experience. This sector sounds fascinating and I will definitely explore more. During and after lockdown, my opportunities for work experience were completely erased. But thank to this wonderful virtual work experience, I am able to gather crucial experience to write down on my CV and personal statement. Thank you once again!"
Evan
Ready to find out if this is right for you?