Healthcare needs you!
Medicine with the Shropshire, Telford & Wrekin ICS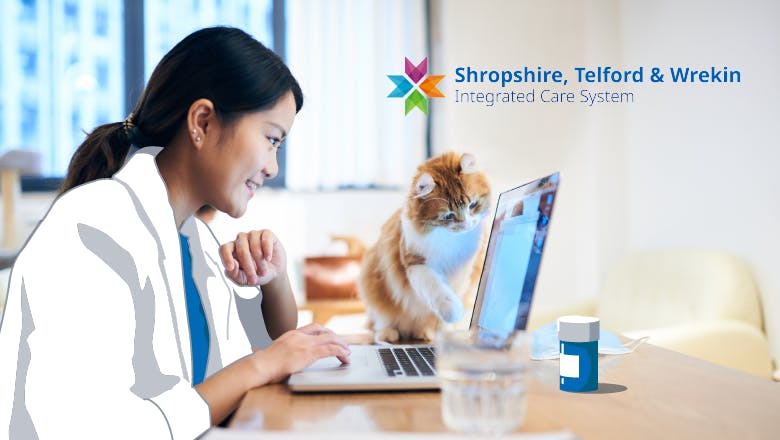 Experience overview
*This programme is on-demand, so if you meet the criteria you can apply and complete the programme immediately*
If you're intrigued about a career where you can help other people every single day then this Virtual Work Experience is for you. The Shropshire, Telford and Wrekin Integrated Care System and Health and Social Care Partners will guide you through an exploration into the roles held by medical professionals throughout the healthcare system. You'll have your mind opened to the scope of these roles and be able to speak to real professionals to find out deeper insights about the realities of working in healthcare. Kickstart your career in medicine and apply today!
What's included?
During the programme, you'll cover the medical professions in depth, including surgery, paediatrics, psychiatry, oncology and cardiology. You'll learn about what it's like to work in health and social care, including what it's like to work for your local ICS and the wider NHS.
This programme will be available for 12 months after the 13th of June. We do encourage you to complete within 10 days of starting the programme.
The programme is open for students aged 14-19 who are based in Shropshire, Telford, Wrekin, Staffordshire or Powys
Certificate of completion
Approximately 10 hours to complete
Complete at a pace that suits you
Shropshire, Telford and Wrekin Integrated Care System is a partnership of all the NHS and Social Care organisations in Shropshire Telford and Wrekin, Shropshire Council and Telford & Wrekin Council. They are working together to develop and deliver the Sustainability and Transformation Plan (STP) for the area.
The World of Health and Social Care
Have you ever wondered what working in health and social care is really like? It's a system that's responsible for treating patients and saving lives on a daily basis, but we often don't fully understand what it's like! This module will help with that - from introducing you to how the NHS is structured to introducing the core values and beliefs of those who work in healthcare, you'll gain an insight into what it's like to work in health and social care, and how it feels to truly make a difference!
Available dates
To ensure that you get the very best experience, the number of places on each programme is limited. Apply soon to avoid missing your place. Good luck!
Programme dates:
13th June - 31st December
Application deadline:
31st December
Meet industry professionals
Aisling McCann
Aisling originally from Northern Ireland graduated from Keele University in 2018, completed her Foundation training within West Midlands here at SaTH and UHNM (Stoke). After which she took up a post as Clinical Education & Leadership Fellow within Emergency Medicine. Aisling now works as a junior O&G trainee here at SaTH in the West Midlands and one day would like to return as a consultant. Outside of work she is passionate about dogs and enjoys running. 
Sophie Young
Sophie is a doctor originally from the Midlands. She completed her A levels in biology, chemistry, psychology and theatre studies and achieved her degree in Medicine from Keele University in Staffordshire in 2015. After completing sixth form and prior to completing her medical degree she spent 6 months living and working in Jinja, Uganda gaining experience of the culture, the medical field and teaching in a local school. Sophie is currently training in Psychiatry in Midlands Partnership NHS Foundation Trust and is specialising in old age psychiatry. This involves the diagnosis and treatment of dementia and other mental health conditions in people over the age of 65. Sophie is also doing a part time Masters degree in Medical Ethics and Law at Keele University which she hopes will be helpful in her future career as a psychiatrist.
Dr. Melanie Thompson
Melanie has over 20 years' experience as a doctor; initially specialising in sexual health, gynaecology and obstetrics before choosing a career in general practice. She's completed training in psychiatry paediatrics abs neonatology .She currently works as a GP Partner in Telford. She has a keen interest in wellbeing- both emotional and physical. Melanie has studied Neurolinguistic Programming (NLP) ans is a certified practitioner as well as a TRIM (Trauma and resilience Management) practitioner. She has been a Mentor for many years, and currently co leads the local mentoring programme for GPs. Leadership and coaching are areas Melanie has been working on for the last few years. She has been working in GP education for over 15 years now and is leading on the educational programme for GPs locally. Melanie has been a GP trainer and is enjoying her role as a GP appraiser. Her other interests are Women's health & Menopause and Aesthetics Medicine as part of the physical well being holistic care she offers. Melanie is part of the STW Health and WellBeing Board. She is also currently a Co Clinical Director for South East Telford PCN .
Will I receive a certificate once I've completed the programme?
How long will I have to complete the programme?
What happens if I can't finish the programme in time?
How much work is required to complete a virtual work experience programme?
Ready to find out if this is right for you?