What's really involved in nursing and midwifery?
Nursing & Midwifery Online Work Related Learning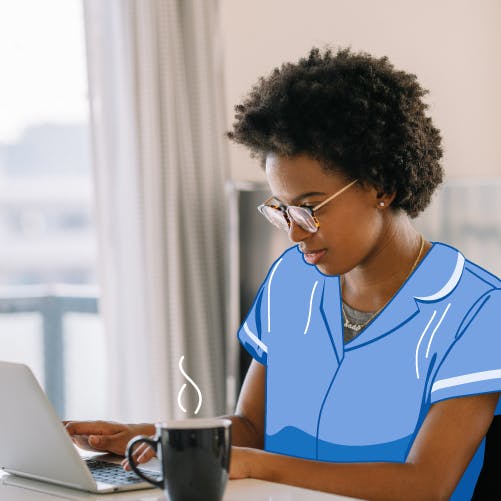 Experience overview
If you're intrigued about a career where you can help other people every single day then this Virtual Work Experince is for you. North West London NHS Trusts will guide you through an exploration of nursing and midwifery as professions. You'll have your mind opened to the scope of these roles and be able to speak to real professionals to find out deeper insights about the NHS and the realities of working in healthcare. Kickstart your career in healthcare and apply today!
What's included?
During the programme you'll cover the world of nursing, mental health nursing, adult nursing, children's nursing, learning disability nursing, midwifery, the art of communication and its importance in these careers and finally looking at careers in the NHS.
Applications are open to students from years 10 – 13 who attend a school or college based within the following local authorities: Hammersmith and Fulham, Camden, Hillingdon, Ealing, Westminster, Richmond-upon-Thames, Harrow, Barnet, Hounslow, Kensington and Chelsea, Hampshire, Wokingham, Surrey, Windsor and Maidenhead, Oxfordshire, Bracknell Forest, West Berkshire, Berkshire, Reading, Brent or Slough.
Certificate of completion
Approximately 10 hours to complete
Complete at a pace that suits you
Available dates
To ensure that you get the very best experience, the number of places on each programme is limited. Apply soon to avoid missing your place. Good luck!
Programme dates:
11th July - 22nd July
Application deadline:
6th July
Meet industry professionals
We've worked with some awesome employers on our Nursing & Midwifery Virtual Work Experience. Check out some of our speakers.
Magnolia Pinga
Critical Care Practice Development Nurse
Margaret Smedley-Stainer
Learning disability + autism lead
RL
Ray Langshaw
Recruitment & Retention Manager / Senior Nurse
What students say
"Thank you so much for taking time out of your day to help create this interactive virtual work experience. I felt very much immersed in all the different roles of nursing and midwifery. The webinars were incredibly helpful and interesting. I thoroughly enjoyed the programme. Please know that your time and effort has been appreciated by myself. It has been very worthwhile participating in this programme. "
Hannah
"Thank you so much for choosing me and letting me participate in this program, it was really fun and not stressful at all and all the webinars were on great timings and this program provided so much information about nursing and midwife. This programme made me so much more confident in becoming a nurse knowing that there are many different ways in becoming one. Thank you so much!"
Laiba
"I would like to thank every person involved in making this programme available to students like me, and the fact that you were all committed enough to do this in the times of Covid-19. The work you have so clearly put into this does not go unnoticed, I hope you all are aware of how grateful we are to have had this programme. THANK YOU!"
Raluca
Ready to find out if this is right for you?