Healthcare needs you!
Nursing & Midwifery with the Shropshire, Telford & Wrekin ICS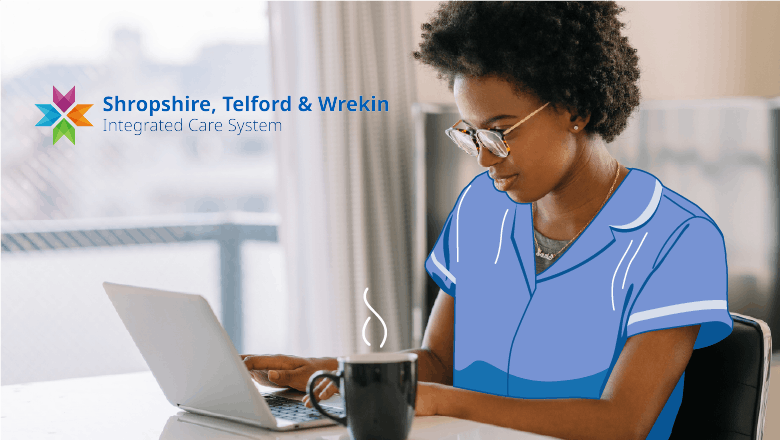 Experience overview
*This programme is on-demand, so if you meet the criteria you can apply and complete the programme immediately*
If you're intrigued about a career where you can help other people every single day then this Virtual Work Experience is for you. The Shropshire, Telford and Wrekin Integrated Care System and Health and Social Care Partners will guide you through an exploration into the roles held by nurses and midwives throughout the healthcare system. You'll have your mind opened to the scope of these roles and be able to speak to real professionals to find out deeper insights about the realities of working in healthcare. Kickstart your career in nursing or midwifery and apply today!
This programme links to careers in: healthcare, nursing, social care, medicine, midwifery, therapy and more. Subject links include: Biology, Health and Social Care, Social Sciences. An awareness of the NHS Core Values and skills such as compassion, a desire to help and team work are all essential.
What's included?
During the programme, you'll cover the world of nursing, mental health nursing, adult nursing, children's nursing, learning disability nursing, midwifery, the art of communication and its importance in these careers. You'll learn about what it's like to work in health and social care, including what it's like to work for your local ICS and the wider NHS.
This programme will be available for 12 months after the 13th of June. We do encourage you to complete within 10 days of starting the programme.
The programme is open for students aged 14-19 who are based in Shropshire, Telford, Wrekin, Staffordshire or Powys
Certificate of completion
Approximately 10 hours to complete
Complete at a pace that suits you
Shropshire, Telford and Wrekin Integrated Care System is a partnership of all the NHS and Social Care organisations in Shropshire Telford and Wrekin, Shropshire Council and Telford & Wrekin Council. They are working together to develop and deliver the Sustainability and Transformation Plan (STP) for the area.
The World of Health and Social Care
Have you ever wondered what working in health and social care is really like? It's a system that's responsible for treating patients and saving lives on a daily basis, but we often don't fully understand what it's like! This module will help with that - from introducing you to how the NHS is structured to introducing the core values and beliefs of those who work in healthcare, you'll gain an insight into what it's like to work in health and social care, and how it feels to truly make a difference!
Available dates
To ensure that you get the very best experience, the number of places on each programme is limited. Apply soon to avoid missing your place. Good luck!
Programme dates:
13th June - 31st December
Application deadline:
31st December
Meet industry professionals
Johannes Nang-Byi
My name is Johannes Nang-bayi, a nurse by profession. I received my certificate in nursing in 2001 from Bolgatanga Nurses Training College in Ghana West Africa. I also hold a BSc Nursing certificate from the Open University, United Kingdom. Prior to relocating to the United Kingdom in 2005, I worked at the Ghana Police hospital performing a dual role, one as nurse and a police officer when the need arises. Due to my police officers duties, I had six months training in the police training school. However, my main duty was nursing. On arriving here in UK, I worked as a care assistant in a nursing home in Birmingham and West Felton whilst waiting to be enrolled to do a supervised practise/adaptation so as to enable me acquire my nursing licence (PIN). Whilst working at West Felton, I was also working at my current place on bank. After nearly a year, I completed my supervised practised and then started to work as a nurse. I became a deputy manager then a manager in 2013.
Patricia Clifton
Patsy trained as a registered nurse in Birmingham back in 2003, then worked in A+E/MAU and ITU. Patsy made the jump to primary care initially in Sexual Health and then to General Practice, whilst doing her post graduate Advanced Practice training in 2013. Patsy is currently completing a further MSc in Leadership for Healthcare Professionals, alongside working at a Telford practice as an Advanced Clinical Practitioner.
TF
Tracy Fisher
I left school with no formal qualification and did various jobs and gained a vast array of life skills. I gained my Diploma in Adult nursing and I have never worked in a hospital, only as a community nurse. I worked as a B5 community nurse for 10 years and applied for my District nursing degree and passed 1.2 ; band 6 for 8 years, Team leader for 5 years, and then moved into Education. Shropshire Community NHS Trust & the NHS has provided me with fantastic opportunities to develop myself and now, I'm teaching and hopefully inspiring the next generation of nurses.
Will I receive a certificate once I've completed the programme?
How long will I have to complete the programme?
What happens if I can't finish the programme in time?
How much work is required to complete a virtual work experience programme?
Ready to find out if this is right for you?