Get career ready with Oxfordshire
Oxfordshire Work Experience Programme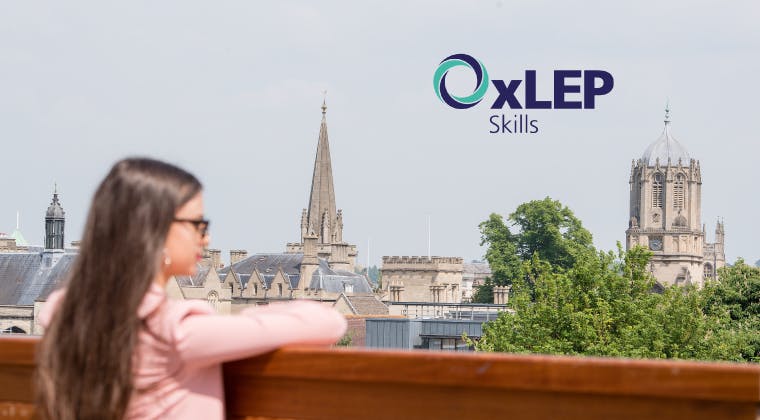 Experience overview
Oxfordshire Local Enterprise Partnership, or OxLEP, is a local, business-led partnership that plays a central role in driving local economic growth. OxLEP is giving students the fantastic opportunity to discover the world of work by hearing from local employers and a focus on key employability skills including communication, teamwork, resilience and digital skills.
What's included?
*This programme is on-demand, so if you apply and meet the eligibility criteria, you can start right away!*
From working in Oxfordshire and industry spotlights to problem-solving and preparing for the world of work, this programme will help you learn more about opportunities in your local area, develop key employability skills through quizzes and activities, and take part in employer projects set by industry professionals.
This programme is open to students in Y10-Y13 who live/study in Oxfordshire
Certificate of completion
Approximately 10 hours to complete
Projects set by employers
Complete at a pace that suits you
Introduction to Employability
Problem Solving, Resilience & Project Management
Preparing for the World of Work
Available dates
To ensure that you get the very best experience, the number of places on each programme is limited. Apply soon to avoid missing your place. Good luck!
Programme dates:
16th May - 1st July
Application deadline:
1st July
What students say
"Thank you for taking the time to create this programme. The volunteers on the live sessions were all really nice and down to earth which was really good to hear proper experiences in this industry, without sugar coating or hiding anything. To the people who made this project brief and stuff for us: I really enjoyed it and I thought it was the perfect topic and it's nice to bring more awareness and knowledge of this subject to more people! Also all the videos were really nice on this programme. Very full of life and engaging!"
Rhea
"Thank you for providing an opportunity for young people like me who had no previous exposure to the industry/ This programme has some great elements that differentiates itself from other work experience providers. The programme particularly focuses on ourselves: our confidence, our skills and what we want to do in the future rather than just the work opportunities available and how to get there. I've really enjoyed this programme and hope there would be more opportunities in this specific field"
Ci
"Thank you very much for this experience. This sector sounds fascinating and I will definitely explore more. During and after lockdown, my opportunities for work experience were completely erased. But thank to this wonderful virtual work experience, I am able to gather crucial experience to write down on my CV and personal statement. Thank you once again!"
Evan
Ready to find out if this is right for you?