Get into the mind of a psychologist
Psychology Work Experience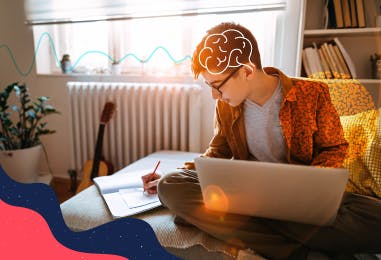 Experience overview
So you love to know what makes people tick, but you don't know what field of psychology is right for you? We've got you covered! In this psychology virtual work experience programme, you'll hear about the grisly history of psychology as well as the fields of psychology we know, recognise and practice today.
What's included?
Psychology is a competitive field, so we're giving you an edge. We've spoken to professionals who specialise in various disciplines to get their top tips for entering the field of psychology and what to do once you're there!
Please note this programme currently has no live talks, however it includes tips and career guidance from industry experts throughout the programme!
The programme is open to anyone aged 13+
Certificate of completion
Approximately 10 hours to complete
Hear from 3 industry experts with on-demand talks that fit your schedule
Complete real industry activites
Forensic Psychology
It's not all Criminal Minds and Mindhunter, in this module you'll hear all about the work forensic psychologists do in the criminal justice system. We'll also break down the range of approaches and treatment forensic psychologists use to support the individuals they work with. In this module's activity you'll use what you've learnt so far about offender/victim profiling to help assist with an investigation.
Available Dates
There aren't currently any dates available for this programme. Check out some of our other available programmes.
Explore more programmes
Meet industry professionals
We've worked with some awesome employers on our Psychology Virtual Work Experience. Check out some of our speakers.
Reece Chapman
Sports Psychologist at Chesterfield FC
Anna Mistzal
Assistant Psychologist at the NHS
Dr Hazel Harrison
Founder at ThinkAvellana
What students say
"I really enjoyed and benefitted from the community platform. I think it is a great way to interact with others taking the course to help out or find additional information regarding deadlines and other details. People have responded quickly to each other's questions and the springpod team have also been very active on the chat interacting with us, which i found to be helpful. Personally i found peoples answers to questions about things such as how much to write or how to get started very useful when it came to some tasks in the course and information about when the course ended. I also enjoyed the post about the sports psychologist answering more questions, including mine, as it gave me more insight into that particular field. Additionally, I found the fact chats were set into sections regarding the content really useful as i didn't have to go looking for certain topics in one large chat containing all the information."
Chloe
"Thank you for this unique experience ( it is my first time committing to virtual work experience and I don't think I'll be looking at any other platforms apart from SpringPod for a while!) What I enjoyed the most about this programme was that every module allowed me to switch into a different persona- I loved that I had to change the way I was thinking, become more empathetic or become more open minded when being a certain type of Psychologist. It was a very unique and diverse experience that has allowed me to obtain transferable skills such as: time management, critical thinking, empathy and adaptability into distinct scenarios ( such as when reading about crime scenes in forensic psychology). Lastly, I would like to see a programme that perhaps only centers around employability skills, interview skills, transferable skills or Pods centered around being a student/ guides as I think many students my age would find it helpful for school."
Naeema
"I think that springpod is a very amazing community, that works hard to make sure that people have the best work experience they can. I've done many work experiences before but think that this is the best one that I've done yet. I found the fact that i could do the programme at my own pace and schedule was very useful! Thank you so much for giving me the opportunity springpod, i really appreciate it :-)"
Priya
Ready to find out if this is right for you?