Want to inspire future generations?
Teaching Work Experience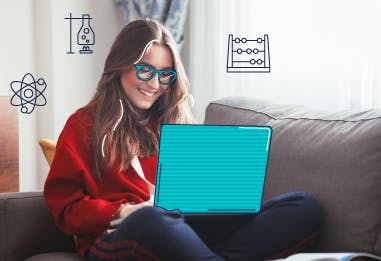 Experience overview
When you think of teaching what do you think of? Your favourite teacher perhaps? Teaching is one of the most rewarding careers out there, but what goes into planning a great lesson and how do you keep your students safe and engaged? This teaching virtual work experience programme will put you at the top of the class.
What's included?
We'll speak to a whole classroom of teachers, who teach from primary to university level, so you can get an idea of what teaching pathway best suits you. You'll take quizes along the way, to make sure you're paying attention and deserving of an A*.
Please note this programme currently has no live talks, however it includes tips and career guidance from industry experts throughout the programme!
The programme is open to anyone aged 13+
Certificate of completion
Approximately 10 hours to complete
Hear from 3 industry experts with on-demand talks that fit your schedule
Complete real industry activites
Available Dates
There aren't currently any dates available for this programme. Check out some of our other available programmes.
Explore more programmes
Meet industry professionals
We've worked with some awesome employers on our Teaching Virtual Work Experience. Check out some of our speakers.
Ross Prior
Deputy Head at Woodleas Junior School
Martin Holland
Primary Teacher & Head of Year 3 at Doha College
Paul Mullen
Former Literature Lecturer
What students say
"First of all i want to say thank you so much for creating this programme, i have no doubt in my mind that you have helps, not only myself, but also hundreds of other students/ teenagers through this programme of yours- especially for me this was so beneficial since actual work experience was cancelled and i could get any sort of help, advice, experience, etc due to the whole covid 19 out break. So thank you again, i grately appreciate all your hard work, and i will make sure to share this platform to others and show my gratitude. Also thanks for selecting me to participate- thank you so much."
Subitha
"Thank you for creating this amazing programme. I have done a few programmes totally unrelated to teaching but this one has been my absolute favourite. I have gained so much more information and feel more confident about the path I should take to where I really want to go. It is definitely more interesting and helpful than just researching information and writing down. Since I am a kinesthetic learner, the activities part of the programme was my favourite as it really helped me absorb of the knowledge I have learned from this so thank you so much :)"
Margarett
"This programme really gave me a wider understanding of the world of teaching as I did not realise there was a lot of hard work that goes into the lessons before they are even taught. It also showed me how to plan around different children, the importance of safeguarding and certain aspects like a DBS check that, before this programme, I was unaware you needed before teaching. This work experience has encouraged me to still have the desire to become a teacher as it has shown me many benefits that the job holds."
Tori
Ready to find out if this is right for you?